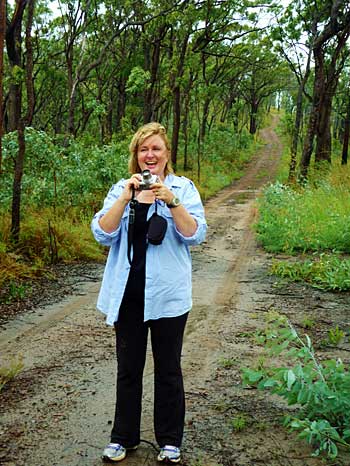 I live, breathe, dream garden design and plants. My early childhood obsession with classical gardens lead to life as a student at the Royal Botanic Gardens, Kew and the Royal Horticultural Society's garden at Wisley where I was immersed in all things botanical, dreamy gardens and the thirst for knowledge about design, colour and form as used by my idols such as Humphrey Repton, Gertrude Jekyll and Burle Marx – view site.
The need to find the perfect combination of texture, form and colour must be balanced against constraints of time and budget. My aim is to produce plans that can be used to create the most individual and intricately detailed garden or the most economical warehouse carpark or land subdivision. I want my landscapes to stand the test of time. Every project is important to me.
I graduated from Kew  http://www.kew.org/ with an honours pass and over the next few years followed the dream managing the landscape section of a company who managed country estates and on holidays designed and supervised construction of courtyard gardens in London and surrounding areas until I met my Australian husband and came to Cairns to raise our family and design landscapes in the amazing fertile soil of North Queensland.
Every plan must be able to be clearly understood by contractors who have spent their lives reading landscape documents or a householder who has little knowledge of botanical names.
I am a competent user of AutoCAD and other drafting programs and can produce accurate specifications using NATSPEC and also use 3D software to illustrate ideas where required. Each plan has detailed lists and specifications and I work with many of my clients to make sure that the project reaches a successful conclusion.
I am a member of professional organisations – the Australian Institute of Landscape Designers and Managers (AILDM) http://www.aildm.com.au/www/home/ and the Cairns Industry Cluster Group (CLIC)  http://www.clic.net.au/
Successful projects range from school playgrounds for special needs children, extensive resort-style developments, simple shops and commercial and government-funded schemes, masterplans for parks, areas of natural beauty  and heritage significance, land subdivisions which include areas of rainforest revegetation designed to feed tree kangaroos or the most exotic gardens with relatively unrestricted budgets.
All plans comply with conditions of local authorities and regulatory bodies. I am on registers of recommended landscape architects and landscape designers for Cairns Regional Council and my work is accepted and recommended by many other councils in Australia.
Commercial projects are produced on time and to brief and budget.  Private developments take a little longer as the important factor is the interaction with my clients and the need to produce something that is satisfying and perfect for each family or individual. Often I work for the same clients over many years on different projects.
For many years I have been based near Cairns in beautiful North Queensland and undertake projects around Cairns, Atherton Tablelands, Townsville and Brisbane. I also work on projects in the Northern Territory such as Alice Springs and remote communities such as Mornington and Thursday Islands, Mount Isa and Cloncurry with an interest in plants that are endemic to the areas as well as the use of species that are locally available and will survive and be easy to maintain.
The proximity of Cairns to an international airport enables me to keep up with modern design trends, visit my beloved classical gardens and yet still be close to the excitement of Asia.